This Blog answers to the most asked question "What is the Future of Electric Vehicles in India?"
Changing Phase of Markets in the Future and the Role of Electric Vehicles
The impact of the current pandemic in the year 2020 is going to change the phase of the markets and commerce in the future. As we continue to accustom our lives to this new normal, Businesses are changing their service models. The biggest change in the industry during or post lockdown is going to be a surge in the demand for vehicles to carry and distribute goods and services to the customer's doorstep.
Since everyone stays home to avoid contact and social distance, many retail stores, supermarkets, water distributors, daily milk distributors are suddenly in the distribution markets needing vehicles that can carry at least 500 kgs weight and distribute in smaller local streets within a range of radius 10 to 15 km. As the businesses demand goes up on delivery models more number of commercial vehicles are entering the roads.
But the Future of Electric Vehicles in India belongs to only those that can sustain through the volatile markets with efficient operations, lower costs, and smarter logistics.
The role of Electric Vehicles in the New Markets:
Last-Mile Connectivity: There is a need for vehicles that can connect the smallest of cities with the ever-evolving and changing infrastructures of the country. Not just metro cities but tier 2 cities also can benefit from the new businesses in the market. Fleet managers need to cover the most number of customer touchpoints so that they are well-positioned to market any new product or offering as soon as they are launched. A lightweight electric vehicle is the best for maneuvering through the crowded growing Indian cities.
Operating Efficiency: Fuel costs are still the highest operational cost for any commercial vehicle. A vehicle that can reduce fuel costs while increasing reliability and durability is the best bet to increase operational efficiency for fleet or individual commercial vehicle models. Electric Vehicles especially work out to be very profitable to any company from local grocers to high-end e-commerce companies that manage a fleet of delivery service vehicles. Electric Vehicles can also cut down on the shipping costs or delivery costs for the customer.
Logistics and Tracking: Hardware and software integrations can help fleet operators in tracking their vehicles, setting driving schedules and routes, traffic conditions, charging intervals, charging-station availability, and other logistics in alignment with customer demand. Using technology like Telematics and GPRS systems, end to end delivery for multimode transportations and also vehicle maintenance tracking can be recorded and managed from a remote office as data becomes accessible through sensors and stored in servers.
Smarter Electric Vehicles and Analytics: As we still wait on self-driving autonomous vehicles and its infrastructure to be built in the future, for now, India is already equipped for smarter vehicles that can track fuel efficiencies, tire age, and alignments, cooling temperatures, smarter routing using mapping analytics and predictability. Accessing and predicting vehicle health can help with lesser accidents and downtime.
Customizable and customer-centric: As new disruptive businesses erupt, so does the change in customer service traditions. The more customer-centric a company the better sustainable its model. Electric vehicles can help in this area by giving customizable solutions to business needs and give better speed and uptime. With remote diagnostics, predictive analytics, and early responsiveness,  customer service time can be reduced putting the companies ahead in the competition with their peers in customer satisfaction.
Eride drives into the future horizons with its AMIGO Electric Vehicles
At Eride, an electric mobility company, we want to be a leader in the revolutionary smarter electric vehicle adopting markets. We have launched a phenomenal custom electric vehicle called AMIGO with a wide range of applications for the last mile connectivity and e-commerce companies.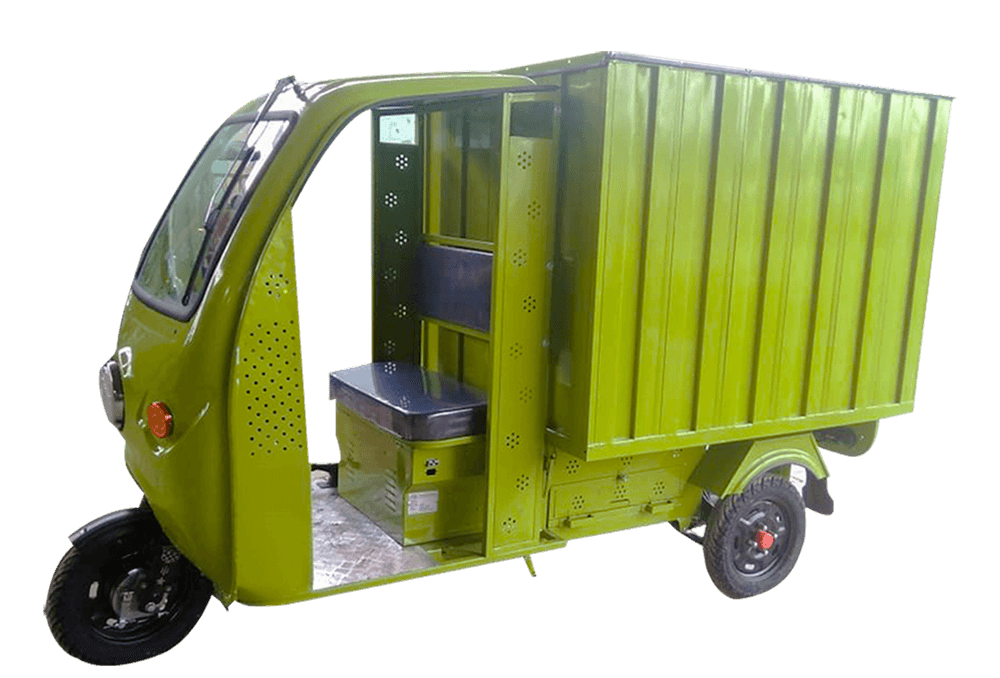 AMIGO Electric Vehicle has been built keeping in mind the growing demands of the future markets for low operating costs and high reliability and durability. With lesser wear and tear complications because of its fewer frictional parts and an operating cost as low as 40 paise per KM it is very reliable and has already garnered huge customers with many inquiries not only from Hyderabad but also tier 2 cities in the two Telugu states.
AMIGO Electric Vehicle can drive for 100 km range on single charging of 3-4 hrs and comes with swappable lithium-ion batteries of 100Ah so that there is no downtime for drivers. Incredibly easy to operate and upkeep, AMIGO is perfect for delivery services and E-commerce companies. With its ease of use, driving, and maintenance it can be the best investment for your delivery purposes. We can also custom manufacture our AMIGO electric loaders to integrate with Telematics and GPRS systems to suit your specific business requirements.
While driving out of the lockdown with a renewed spirit, newer businesses, and newer technologies, let us also have a goal to step into the Future of Electric Vehicles in India with a responsibility to preserve our environment. By adopting electric vehicles we leave a bigger global impact with lesser carbon footprints.