Urbanization is projected to bring a billion more people to the cities by 2030. An onslaught of e-commerce business portals and changed consumer behavior for convenience is demanding both quick and more frequent parcel deliveries to homes and businesses. The denser the cities, the denser is the consumer demographics leading to intensified urban traffic congestions, vehicle pollutions, and parking difficulties. As the freight volumes grow with more commercial vehicles clogging the streets for higher penetration into the city, there is an urgency to employ smarter city logistics. New policies and designs to keep up with the disruptive business structures and innovations can make urban logistics more efficient for a hurriedly developing country like India. While addressing congestion issues cities also need to embrace smarter logistics for more sustainable and economically friendly logistics for longevity.
What is Urban Logistics?
Urban logistics is defined as the flow of goods in and out of urban areas. It is not only limited to the supply of fundamental goods within towns and cities but also defines the changing quality of life for its inhabitants. As the cities grow rapidly, the scalability and complexity of urban logistics are increasing exponentially.
Key Influencers of Urban logistics:
Urban logistics has several key stakeholders that have to work together in a complex structure to make the show a smooth process. City authorities, logistics companies, retailers, transportation facilities, and citizens influence the call for action of urban logistics.
There are at least four key trends that are influencing urban logistics in today's day and age. These are:
Urbanization and the city: The city is responsible for defining and monitoring a regulatory framework to manage urban logistics traffic efficiently so there is a lesser volume of traffic on the roads. Cities are becoming more enterprising to tackle a variety of urban delivery issues. Both public and private collaborations are helping in the adaption of innovations for smarter traffic controls. Cities are encouraging and supporting electric vehicle adoptions by giving subsidies to create sustainable and eco-friendly awareness within the community. Most of the urban lifestyles quickly adapt to any smarter options due to the use of smarter devices and social media networks.
E-commerce: With an explosion of online portals, social media advertising, and growing demands, e-commerce has become more convenient and increasingly reliable especially during the pandemic and the lockdown. Many businesses that never went online were forced to switch to online businesses to sustain. Big data and Industry 4.0 also continues to help how e-commerce is managed and performed within cities by using city maps to track, route, and re-route their services. There are a few large, competing platforms such as e-kart and amazon that have emerged and dominated the urban logistics space. With an increased e-consumers and an increased volume of deliveries, the platforms are also pooling logistics traffic more efficiently than a single delivery handler.
Commercial logistics: With the increase in competitive web portals there is a demand to reach delivery expectations of the consumer. Faster and personalized delivery services are in great demand and to keep up with consumer orders, third party portals for delivery are also available. These logistic companies make sure they have live chat options, customer reviews, and ratings to give the fastest vehicles and delivery boys. Logistics providers are also competing to win customers by coming up with innovative delivery concepts that can be easily adapted to the market since commercial logistics is not a highly regulated field. These third-party transport providers can pool the flow of goods across all providers and uses decentralized warehouses to optimize last-mile deliveries.
Environment and sustainability: Pandemic and the increased global awareness for pollution-free and eco-friendly options are playing a major role in the logistics industry. Many of the logistics companies are opting for electric and sustainable vehicles. EVs not just help with lesser fuel costs for the company, they also reduce air pollution and carbon footprints while providing many smarter logistics like GPRS systems, Telematics for better trackers, sensors, and technology-driven smarter delivery options. Electric vehicles also affect the quality of life of the people who live in towns and cities and are more in demand by the newer generation.
Addressing Ecofriendly Urban logistics:
The question is which player is more important to make the evolution of urban logistics sustainable. From the development and innovation perspective, it should be the shared aim of both city authorities and all the businesses involved in urban logistics to contribute towards avoiding urban traffic volumes and congestions by using the technology and smarter network efficiencies. To avoid any further deterioration in the quality of life in the cities, all stakeholders need to engage in the process and step up the greener dialogue.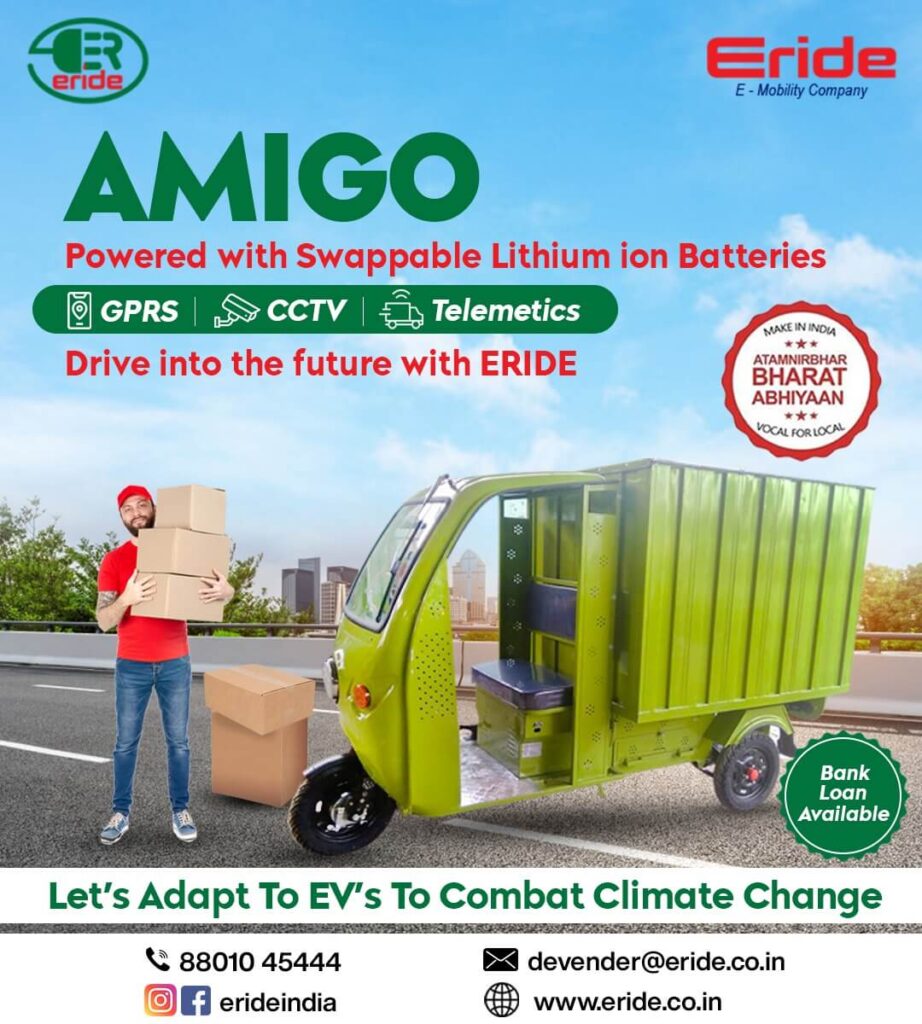 Eride is an e-mobility company seeking constructive ways to resolve the issues related to Urban Logistics by offering a few simple solutions that improve transport and make a difference in an environmentally friendly way. As a perfect scenario is a long-term perspective, we believe it's important to start laying the groundwork now to shape the urban logistics of the future.
Our EV product AMIGO is an incredibly easy to operate battery-operated cargo loader that is perfect for last-mile connectivity and E-commerce. With its ease of use, driving, and maintenance it can be the best investment for individual owners or logistic companies. They can be customized to integrate with any physical business requirements and smarter technologies.
With AMIGO, we want to address the growing complexities of urban logistics while confirming to environmental and economic concerns. AMIGO incorporates innovations to make the life of the consumer easy with convenience and improve the quality of a complex urban supply chain.
By integrating technologies like Telematics and GPRS systems that can help with tracking end-to-end delivery of multimode transportations and vehicle maintenance using sensors, AMIGO can work wonders for trackability and workability using server data from remote offices in the urban logistics structure.
Specifically designed and smartly manufactured in India to suit Indian roads and weather conditions, ERIDE's electric cargo loader AMIGO can help in Earning more while driving less through congested urban traffics.
Every small step taken today can have a lasting imprint on Global Environment.
With Eride's AMIGO… Drive Less and Earn More.