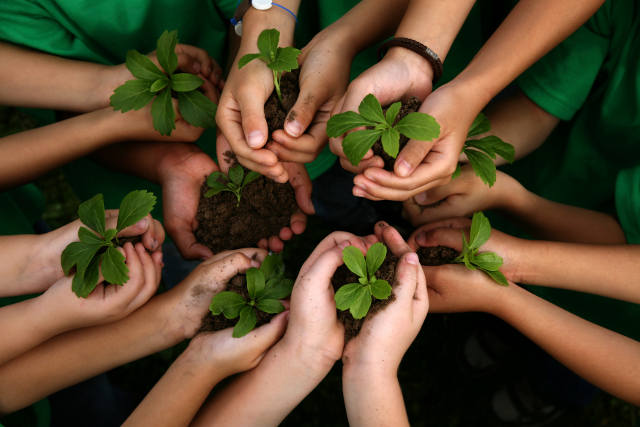 We are aware that the Asia-Pacific is the fastest-growing region in the world. There has been extensive urbanisation and job growth, leading to more demand for natural resources. All this is coming at a huge price. Asia is also the largest emitter of greenhouse gases. These harmful emissions cause climate change, which is damaging the environment and its people. It is not possible to survive in a world that is not sustainable. Can we do jobs that get us money and also protect our environment? Yes, this is very much possible. Because of the quick climate change and non-stop rise in pollution levels, we humans can do our bit to protect this ecosystem, and the best way to do that is through "Green Jobs". So that's what everyone is talking about nowadays!
"Green Jobs" are a classification of jobs that directly contribute to the overall welfare of the environment and have a huge positive impact on mother Earth. The jobs that can be included in this category are jobs in the conservation of resources and jobs involving renewable energy. Both these categories aim at reducing the negative impact on the environment on the economic sectors and further reducing the process of creating a low-carbon economy. Green jobs are crucial to sustainable development and reducing the ecological footprint. Therefore, on the eve of World Environment Day recently, our Prime Minister, Narendra Modi, also spoke about how India has made consistent efforts towards climatic change. He further added in his speech that India is now creating "green jobs" and how they will have an impact on the environment. He said: "There is another aspect of these efforts of India (in fighting climate change) which is rarely discussed and that is the subject of green jobs. The way India is taking decisions in the interest of the environment and implementing them rapidly is also generating a large number of green job opportunities. This is also a topic that should be thought about.
India started a "Skill Council for Green Jobs" under the Union government on the 1st of October 2015. This was thereby aligned with the National Skill Development Missions, which fall under the not-for-profit, independent, industry-led initiative of India. This was promoted by the Ministry of New and Renewable Energy (MNRE) and the Confederation of Indian Industry (CII). The main objective of this council was to help manufacturers and service providers to realise the potential and importance of "green jobs". The council delegated the job of spreading awareness and training to individuals on how by doing green jobs we can limit greenhouse gas emissions, reduce waste and pollution, safeguard ecosystems, restore ecosystems and also support the effects of constant climatic change.
When we look at the environment, we are talking about energy, water, and waste management.  There are so many ways we can bring about change in our society. We, as humans, are the cause of all the changes in the climate.
The need of the hour
Whatever the job you may be doing or any career path you choose, we must bring sustainability to it, ways to save energy or the environment around us. We could even just start by recycling water in our own workplace. One small change towards sustainability. We must keep in mind clean air, clean water and climate change for any job. We, as humans, always want to do something meaningful for society, to support our families economically and then to achieve socio-equity where we respect each and every one around us. Society must now stand up and the human race needs to speed up the transition toward a de-carbonized economy which also respects the environment we live in. Only with such a drastic transition can we halt or slow climate change. We must also become a leader and increase the number of green jobs